If you are thinking about a major career change, there are five very important things I want you to know:
There is no one-size-fits-all formula, road map or GPS
Career transition can take time – sometimes years
You need to give yourself permission to make wrong turns
Certain friends and family will very likely think you are crazy
You are the only one who will know for sure when you get there
[NOTE: I made a bet with a  friend that I could write a short post. Guess it shows anything is possible. 😉 ~ Ronnie Ann]
Articles and books about Career Change
When Am I Going to Find the Perfect Job for Me?
Finding Passion in Your Work: One Man's Solution
A Way to Try Out Your Dream Job
How Baby Steps Can Get You Out of the Trenches and Into a Career You Love
How Can I Find a Job that Makes Me Happy?
Thinking of Changing Careers for that Dream Job? Be Creative!
20 Simple Tips to Help Move Your Career Ahead
by Paul Diamond (free e-book)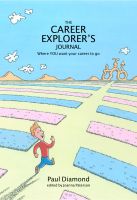 Working Identity: Unconventional Strategies for Reinventing Your Career
by Herminia Ibarra
What Color Is Your Parachute? 2011: A Practical Manual for Job-Hunters and Career-Changers
by Richard N. Bolles
by Liz Lennon and Marc Garnaut (free download)
About the author…
Ronnie Ann, founder of Work Coach Cafe, bases her real-world advice on her many years as an organizational consultant where she helped interview and hire people, added to a certificate from NYU in Career Planning & Development and her own adventures as a serial job seeker. She can also be found on her new blog, Career Nook and on Google+.